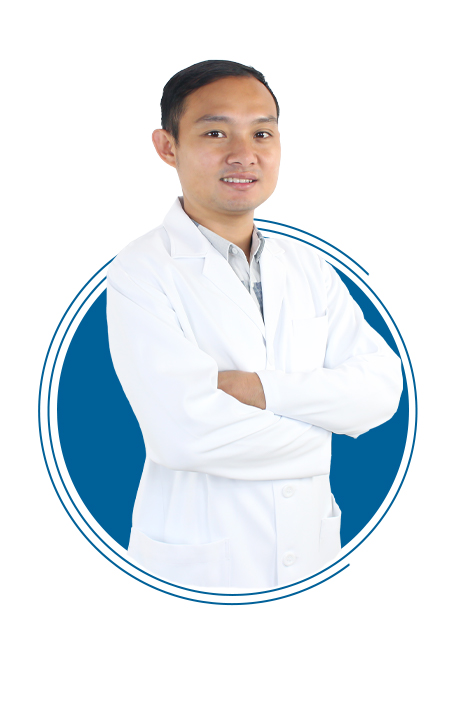 The article is professionally consulted by Doctor Nguyen Ngoc Tan working at Saigon Implant Dental. Dentist has more than 10 years of experience in Dental veneer.
At Saigon Implant Dental in Ho Chi Minh City, high-tech breakthroughs of Porcelain Veneers Emax Press brand Ivoclar Vivadent (Germany) shorten treatment time, bring perfect aesthetic quality, and have a warranty period up to 10+ years. If you want to improve your smile, dental veneers at Saigon Implant Dental is a simple option.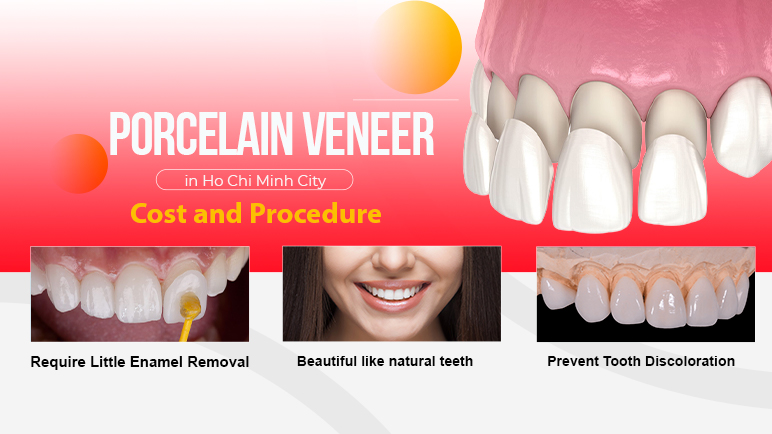 What are veneers?
Veneers include ceramic, porcelain, and composite resin material. However, the most popular type of veneers is porcelain. Veneers are thin coverings placed over the front part of your tooth that look like natural teeth.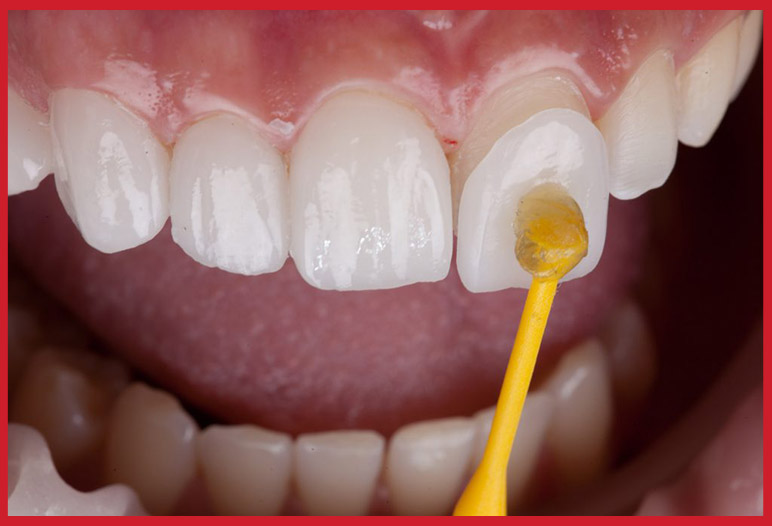 Porcelain veneer paste uses an extremely thin layer of porcelain veneers. The size of porcelain veneers ranges from 0.2 mm to 0.5 mm. They are custom-made, including size, shape, and color for the person.
Porcelain veneers will be fixed on the outside of the tooth surface that need to be treated with specialized porcelain dental glue. Porcelain paste must ensure that the veneer fits the entire tooth in the most natural way.
What dental problems can be corrected with dental veneers?
Who needs dental veneers? Everyone, who wants to enhance the appearance of their smile, can explore veneers. Porcelain Veneers give you a beautiful smile in cases:
Chipped or broken teeth.
Diastema (gaps or spaces in your smile).
Stains can't be improved with teeth whitening.
Too small teeth.
Misshapen teeth.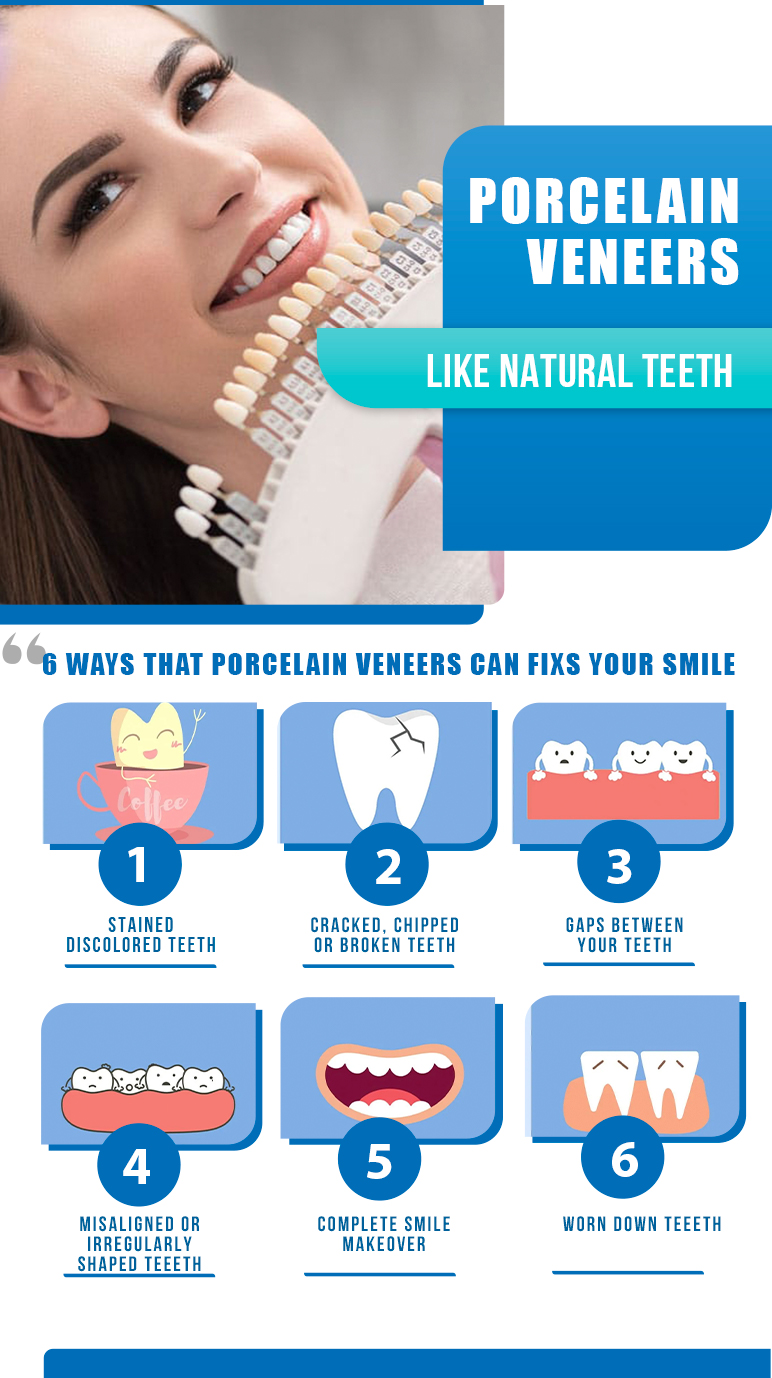 Plus, Dental Veneer can repair teeth discolored due to:
Root canal treatment;
Yellow teeth caused by tetracycline antibiotics or other drugs;
Teeth have too much fluoride;
Large plastic fillings; Worn teeth;
Chipped or broken teeth;
Misaligned, uneven, or irregularly shaped teeth  (eg, with pits or protrusions);
Teethless (to close the space between the teeth).
What are the advantages of dental veneers?
Dental veneers offer a number of benefits. For example, these are 7 advantages of Porcelain Veneers:
Natural looking is similar to your natural teeth. They blend in with your natural teeth for life-like results.
Veneers resist staining better than your natural tooth enamel, less likely to become stained or discolored
Maintain the natural structure of a tooth
Straighten crooked teeth instead of braces
Hide teeth that have become worn down due to teeth grinding.
Cover a crack or chipped tooth
Plus porcelain veneers can last for up to 15 years
How is a porcelain veneer fitted? The process of porcelain veneer teeth
The process of crowning porcelain teeth is carried out sequentially. A veneer can be fitted in a single session that needs two stages with 2 appointments at the dental.  The time for finishing the process is about 3-5 days.
First stage: Dental check and take an impression
Step 1. The doctor will check the oral condition, take X-rays for caries or pulpitis, and diagnose to plan treatment.
Step 2. The doctor will advise on the type of porcelain teeth that are suitable for the teeth, demands and budget of the patient.
Step 3: Carry out porcelain veneer Anesthetize, grind the teeth, take impressions to make porcelain teeth, and attach temporary teeth.
Second stage: Fitting of the porcelain veneer
Step 1: Try and temporarily attach porcelain teeth, check the fit, shape and color of porcelain teeth
Step 2: Conduct porcelain veneer to finish
How much for a Porcelain Veneer in Ho Chi Minh City?
Veneers are a cosmetic procedure so they aren't often covered by insurance. According to the American Dental Association (ADA), you can expect to pay between 900 USD and 2.500 USD per tooth.
Some people may only get one veneer in the case of a broken or chipped tooth, but many get from six to eight veneers for creating an even, symmetrical smile that leads to the more expensive cost of porcelain veneers.
They are not inexpensive. Yet you consider they could last up to 20 years so the cost is totally acceptable. Porcelain veneers are a worthy investment since it comes to taking care of your smile.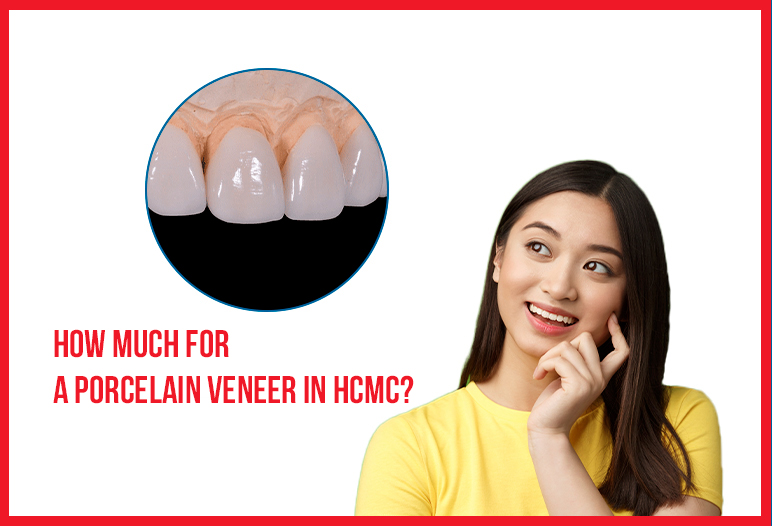 The cost of porcelain veneers in Ho Chi Minh City is calculated based on the porcelain brand chosen. The price of porcelain veneers will vary depending on dental facilities. In particular, porcelain materials for processing porcelain teeth will decide up to 90% of the price.
There is no one-size-fits-all price. It can cost significantly less if you visit a clinic with dentistry students who are supervised by dentists on the dental school faculty. However, you can still know the price range in advance after consulting the cost of porcelain veneers at the best dental clinic in Ho Chi Minh City: prestige, beautiful porcelain paste: Saigon Implant Dental.
The cost of porcelain veneers at SaiGon Implant Dental
In Saigon Implant Dental, the pricing system works per tooth. You get the average cost for the entire treatment and it is a packaged price. Saigon Implant Dental has the best dental veneers in Ho Chi Minh City, high-tech breakthroughs of Porcelain Veneers Emax Press brand Ivoclar Vivadent (Germany). The average price for porcelain veneers is around 300 USD per tooth with 10 years guaranteed, that is a reasonable price for veneers in Ho Chi Minh City works per tooth.
The average quantity needed for a smile makeover is between 12 to 16 porcelain veneers, consisting of  6 to 8 veneers on the upper jaw and 6 to 8 on the lower one. The number of veneers needed depends on the anatomy of your mouth and how wide your smile is.
In Saigon Implant Dental, the porcelain veneers cost covers additional services. For instance, the use of dental clinic facilities such as x-ray scanners and the like is free. Likewise, services for international patients are in the equation.
Let's assume you will need 12 veneers, that means you should expect the procedure to range around 3.600 USD for the veneers alone. In total, the amount paid can be saved 6 times in comparison with the porcelain veneers cost in the US, UK.
However, the porcelain veneers' cost doesn't cover additional root canal treatment, or decay treatment,…  So during treatment, you'll pay extra money.
Comparison table of the cost of porcelain veneer in some countries
USA
UK
 Turkey
Saigon Implant Dental In Vietnam
2,000 USD -2,500 USD per tooth
1,300 USD – 1,700 USD per tooth
2,500 USD- 3,500 USD for a complete set
300 USD per tooth
The porcelain veneer cost doesn't cover additional services.

The porcelain veneer cost doesn't cover any additional services.
Dental X-ray airport reception, transportation, accommodation, and translation are fee

The pricing system doesn't work per tooth

The porcelain veneer cost covers additional services, such as x-rays, dental checkups, consulting, and dental cleaning,…
One of the best ways to keep the cost of dental bills down is choosing a prestigious dental. If you are interested in getting dental veneers in Ho Chi Minh City, you can choose the destination that best caters to your demands and financial abilities: Saigon Implant Dental.
Before – After Porcelain Veneer at Saigon Implant Dental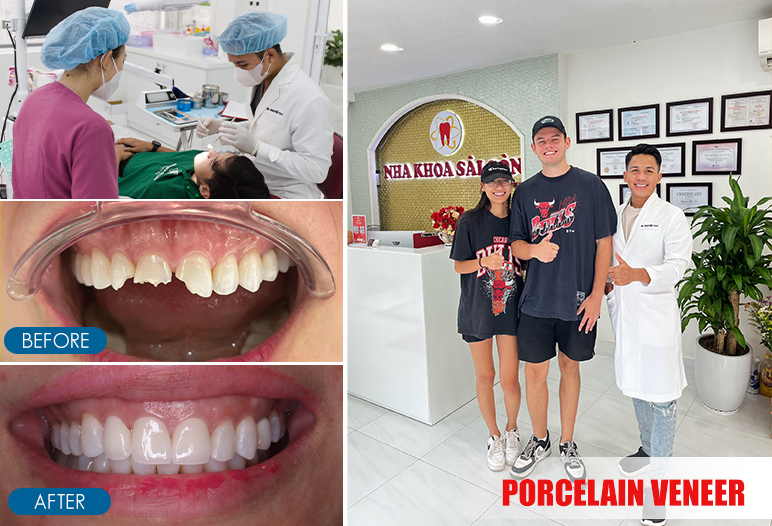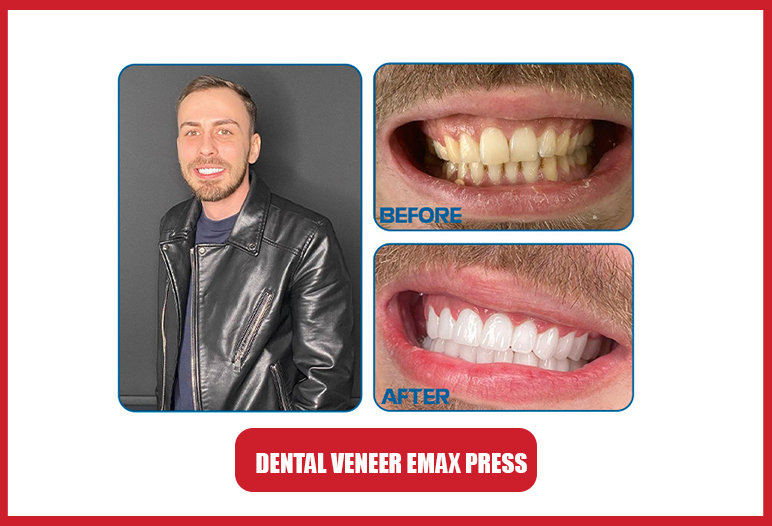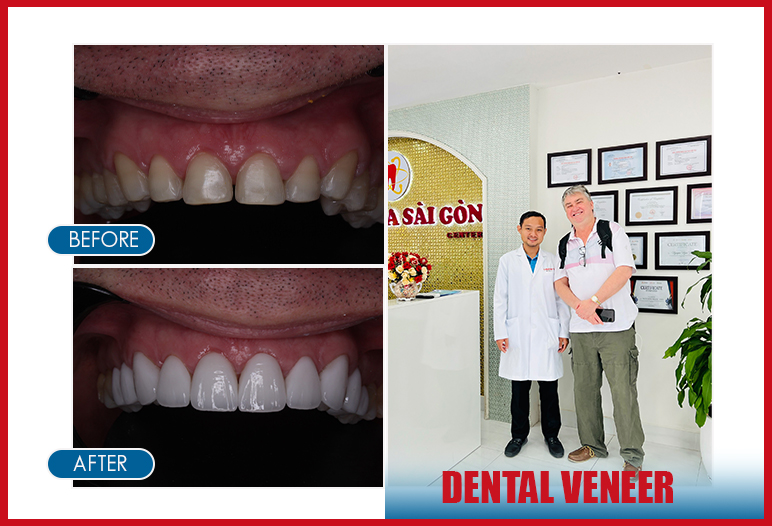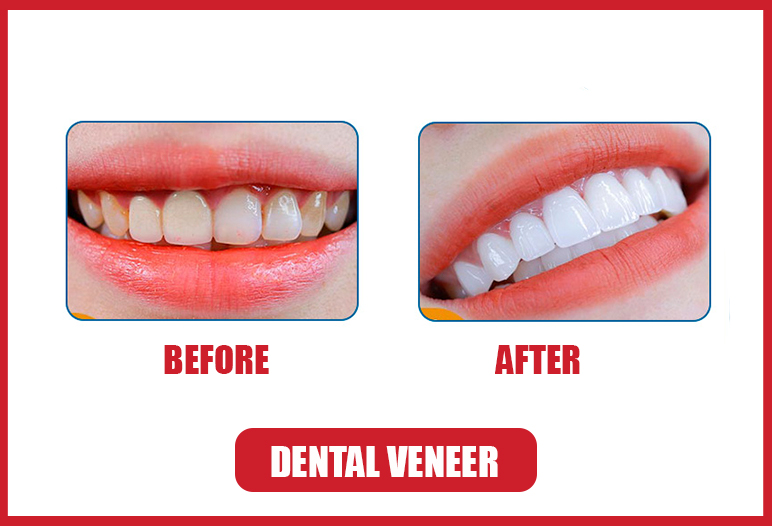 Review's patients
If you need any professional advice regarding veneers, you can book a free online consultation with us via Hotline: (+84) 775-720-450. All you have to do is fill out the form or message us directly via Booking Form and we will get back to you right away.
Our specialists will address all your questions in regards to porcelain veneers or other dental treatments. We can also take you through the ins and outs of medical tourism in Ho Chi Minh City.