All On 4 Implant is a solution to restore full jaw teeth in old people, patients who have lost many teeth, or have lost their teeth for a long time, saving significantly more costs than the single implant technique.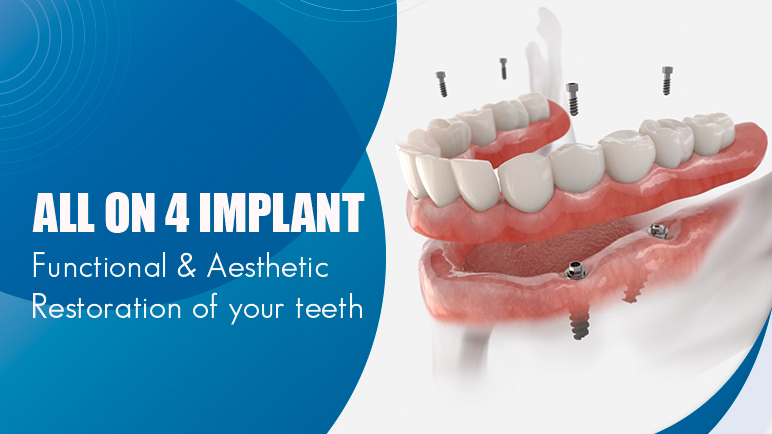 WHAT IS ABOUT ALL ON 4
IMPLANT
?
All on 4 (All on Four Nobel BioCare dental implants) is the optimal solution for those who have lost or are about to lose all of their upper and/or lower teeth. With this procedure, you can come as close to having a new set of permanent teeth as is currently possible. This technique can be applied to all cases of total tooth loss.
With the All On 4 Implant technique, the doctor will place 4 Implants into the jawbone, 2 Implants in front are inserted at right angles to the jawbone, 2 Implants behind are inserted at an angle of 30-45 degrees. The implants used in this procedure are specially designed for immediate function and typically do not require bone grafting.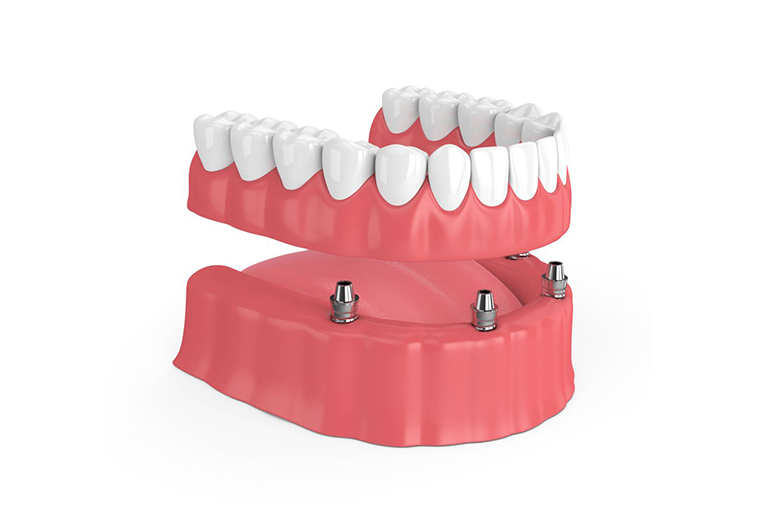 Same-day full-arch rehabilitation with All On 4 implants
Same day teeth replacement in one appointment

Eliminates the need for bone grafts

Precise and predictable implant placement

Reduces postoperative swelling, bruising and pain

Improved healing time
All on 4 implant technique can be less downtime and delivers the maximum results in the shortest time with minimal discomfort. Most patients experience only minor soreness the next day and can eat a light meal that same evening. In most cases, you may even return to work the next day.
Choosing All on 4 dental implants, you will never have to experience the crippling effects of loose dentures, being unable to eat the foods you enjoy, messy adhesives, removing teeth at night, the embarrassment of dentures slipping during speech or smiling or the bad breath associated with wearing dentures.
10 BENEFITS OF ALL ON 4 IMPLANT
All On 4 implant is a fixed restoration method for the most optimal cases of tooth loss in the entire jaw. Compared with other denture techniques, all on 4 implants bring 10 great benefits to patients such as: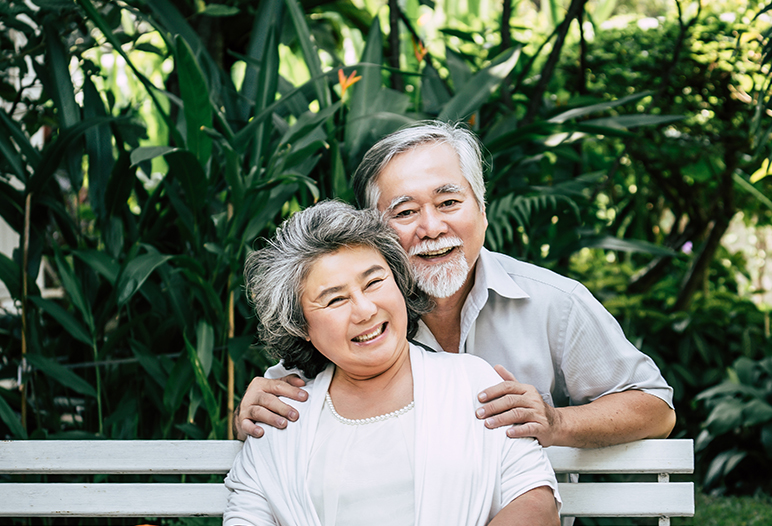 Functional & Aesthetic Restoration of your teeth
Requires minimal recovery time

Reduces overall cost when compared to single implants

Eliminates the need for bone grafting, in most cases

Allows for easy maintenance through proper oral hygiene

Restores the ability to eat all types of foods

Relieves the many frustrations of removable appliances

Ensures long-term results with the potential to last a lifetime

Renews a youthful appearance through bone level stabilization

Creates a whole new smile in just one day

Enhances self-confidence and overall quality of life
ALL ON 4 DENTAL IMPLANTS PROCEDURES
The case All On 4 implant procedure takes place in 2 visits to Vietnam and includes 7 steps. All procedure takes place for 7 days and you could walk out with an entirely new set of teeth.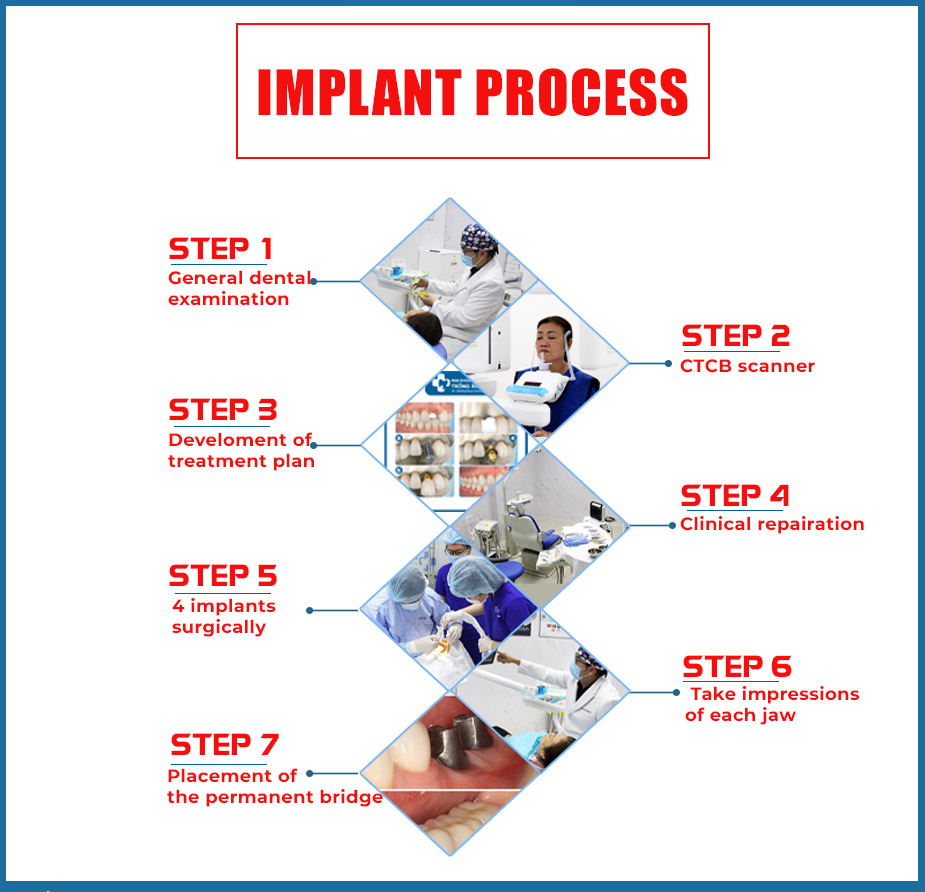 First visit to Vietnam:
During a general dental examination, you will have a CTCB scan so that our specialist could assess the bone quality, locate the sinus cavity, and nerve canals and select the right implants for the surgery.
Impressions for both jaws will also be taken to create a study mold and to fabricate the provisional bridge
4 implants were surgically placed in the jaw. The implant placement process takes about 2 hours.
After that, our specialist will retake impressions of each jaw to modify the bridge to accommodate the new 4 implants on each jaw.
Once the bridges are modified to accommodate the new implants, they will be fitted on the implants
Second Visit to Vietnam: Placement of the permanent bridge after 3 – 6 months of surgery.
WHAT IS THE SUCCESS RATE OF ALL ON 4 DENTAL IMPLANTS?
The long-term success of dental implants depends on many factors: patient compliance, hygiene, use of night guards, overall systemic health of the patient, grinding of teeth (bruxism), general wear and tear from the usage of bridges, trauma, smoking, etc.
All on Four implants, on the other hand: Only require four implants per jaw (8 in total) A single surgery for placement Typically, no bone grafting is necessary All on Four implants save patients an incredible amount of time and tens of thousands of dollars on medical bills! All on Four implants enjoy a fantastic success rate of 100% over a period of 10 – 20 years.
Overall, the procedure has some of the highest success rates for any dental procedure. Sai Gon Implant Dental Center completes about 1000 All on 4 cases a year for patients from all over the world. Over the past many years, All-on-4 cases at Sai Gon Implant Dental Center that 100% successful.
All-on-4 full-mouth implant is a solution to fix teeth, treat once and use it for life. All on 4 implants are supported entirely by the underlying jaw bone, as is the case with natural teeth, and not by the gums. This eliminates all the pain, discomfort, gum inflammation and sores typically associated with denture-wearing. Help you look younger, and prevent sunken cheeks and mouth.
The implant post is durable, allowing easy chewing with both hard and chewy foods, to enjoy a wide variety of foods. They also help to promote the health of the jaw bone, preventing atrophy and remodeling.
WHY SHOULD CHOOSE IMPLANT ALL ON 4 AT SAI GON IMPLANT DENTAL CENTER?
Sai Gon Implant Dental Center is a center specializing in the field of dental implants for overseas patients from over the world, such as: America, Australia, New Zealand, Canada, Singapore,… We are licensed by the Department of Health of Ho Chi Minh City to provide medical examinations and treatment.
We have one of the best teams of implant specialists in Vietnam. Typical like Doctor Nguyen Ngoc Tan with more than 10 years of experience in intensive research and practice of Implants. Woking in Implantology, Doctor Nguyen Ngoc Tan completed more than 1000 cases of single Implant, ALL ON X implant treatments with successful results from simple to complex.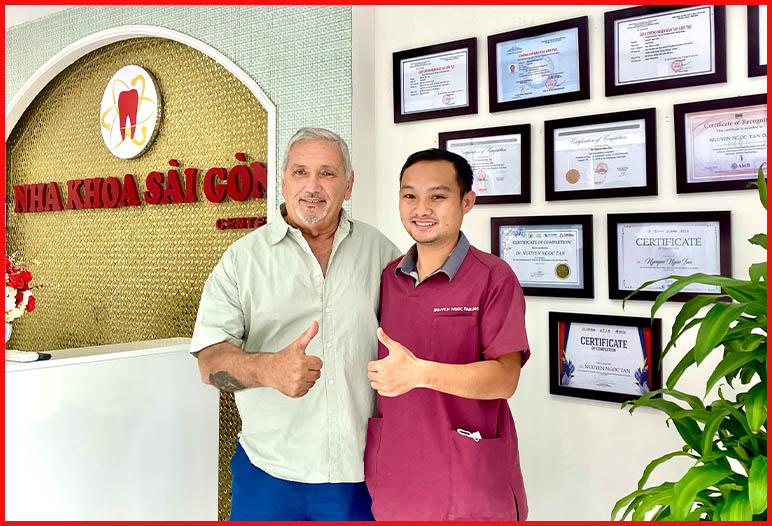 Sai Gon Implant Dental Center adheres to European standards for both quality and sterilization techniques and operates a thorough maintenance and monitoring program to all patients after treatment, to ensure that a successful outcome is achieved. Delivering high-quality dentistry to local and international patients brings high-quality dental implant service comparable to foreign dental services.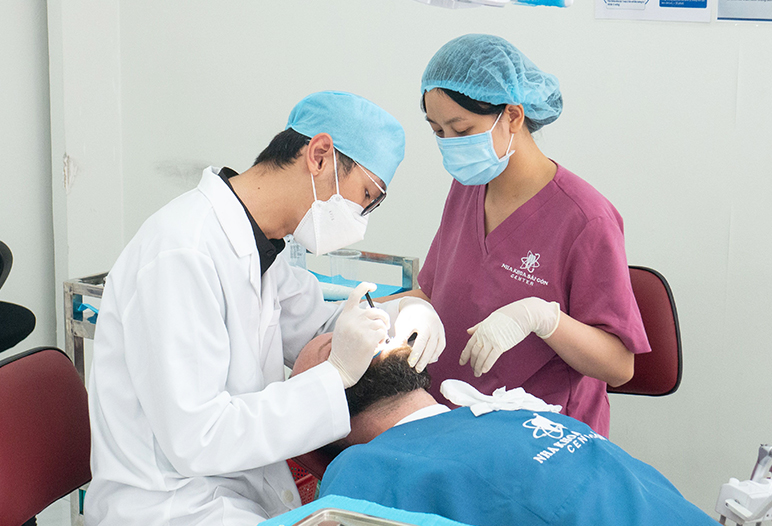 Dentistry has a full line of implant posts from global famous suppliers such as: Implant Biotem, Implant Supperline, Implant Dentium, Implant Straumann,… Patients can choose depending on their needs and personal finances. Genuine warranty commitment from 10 – 20 years or can last a lifetime if taken care of properly.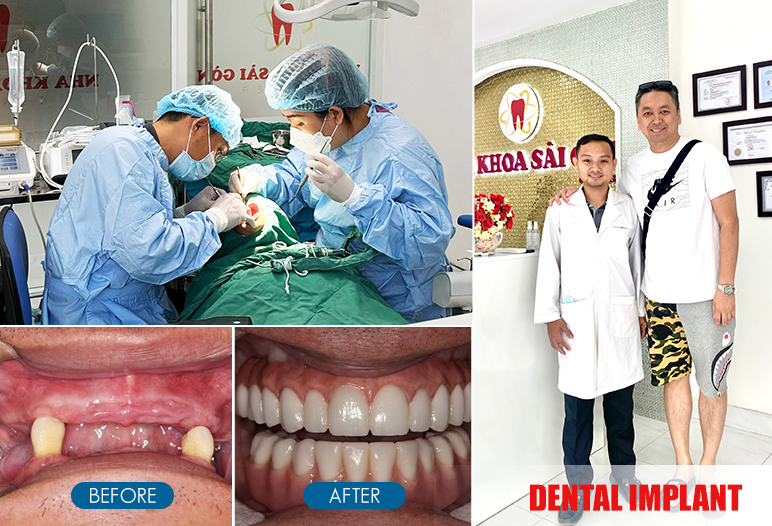 At Sai Gon Implant Dental Center, the cost for All on 4 dental implants for one jaw ranges from 5000$ depending on the jawbone condition. It is an all-in price and includes: Extraction of the remaining teeth Surgical placement of the implant, implant cost, abutment and ceramic tooth on the implant.
The cost of All On 4 dental implants at Sai Gon Implant Dental Center is "softer" than other dentists in Vietnam and saves 4 times compared to Implants in the US, UK, Australia, Singapore, Canada,…  Therefore, this is the most chosen dental implant address by foreigners in Vietnam.
| | | |
| --- | --- | --- |
| Service | Cost (USD) | Unit |
| Implant All on 4 Dentium (Korea) | 3.500 | 1 arch |
| Implant All on 4 Neodent (Swiss) | 4.400 | 1 arch |
| Implant All on 4 Nobel/ Straumann | 5.300 | 1 arch |
| Temporary | 435 | 1 arch |
| Bar + High Acrylic Permanent (4 – 6 Months Later) | 1.320 | 1 arch |
| Bar + Full Zirconia CAD/CAM (4 – 6 Months Later) | 3.960 | 1 arch |
ALL ON 4 IMPLANT: BEFORE – AFTER
Restore full arch tooth loss, multiple missing teeth, and long-term tooth loss with the All on 4 technique at Saigon Implant Center Dental.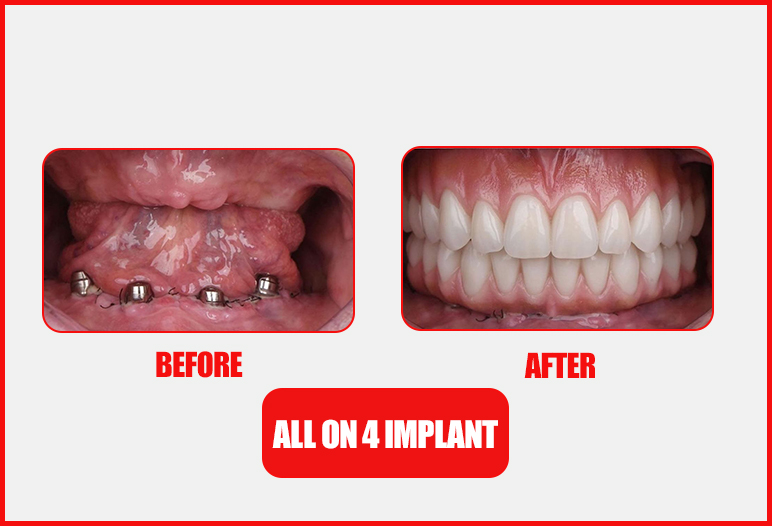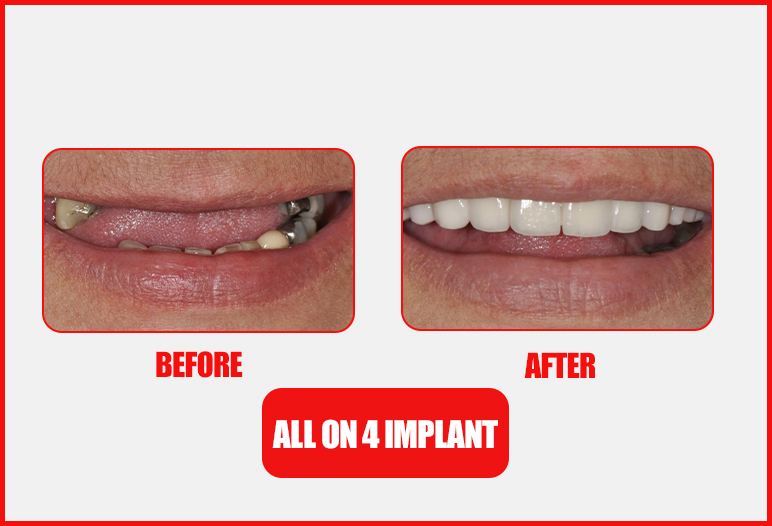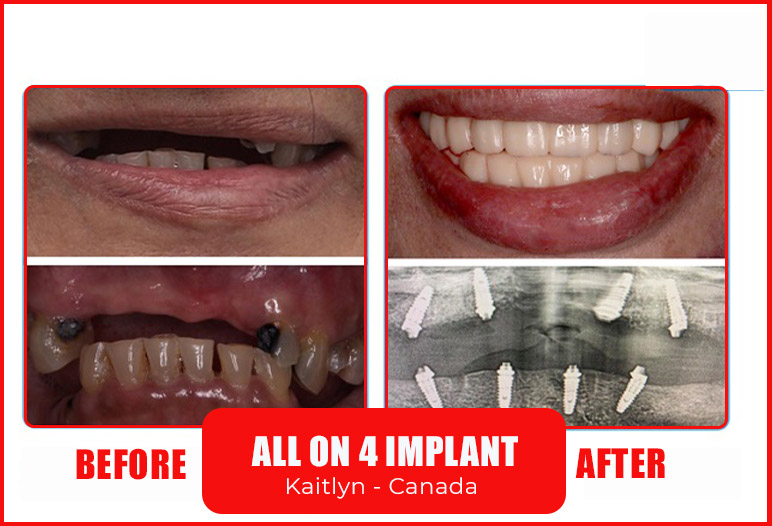 REVIEW'S PATIENTS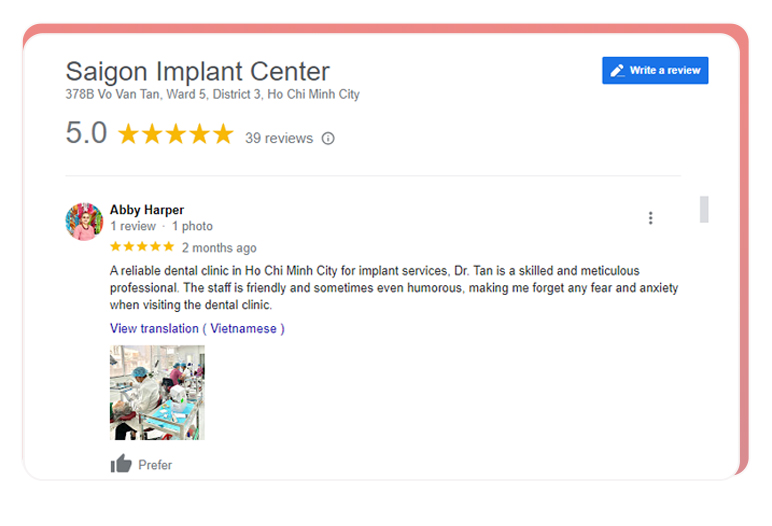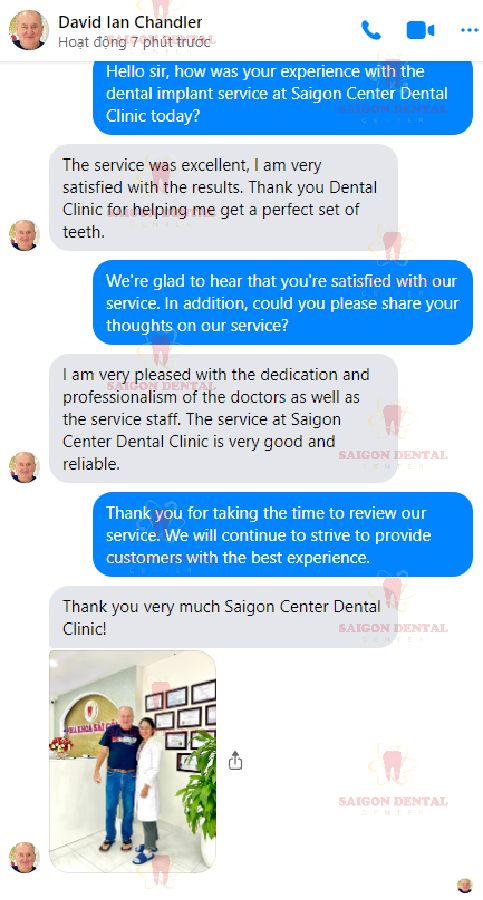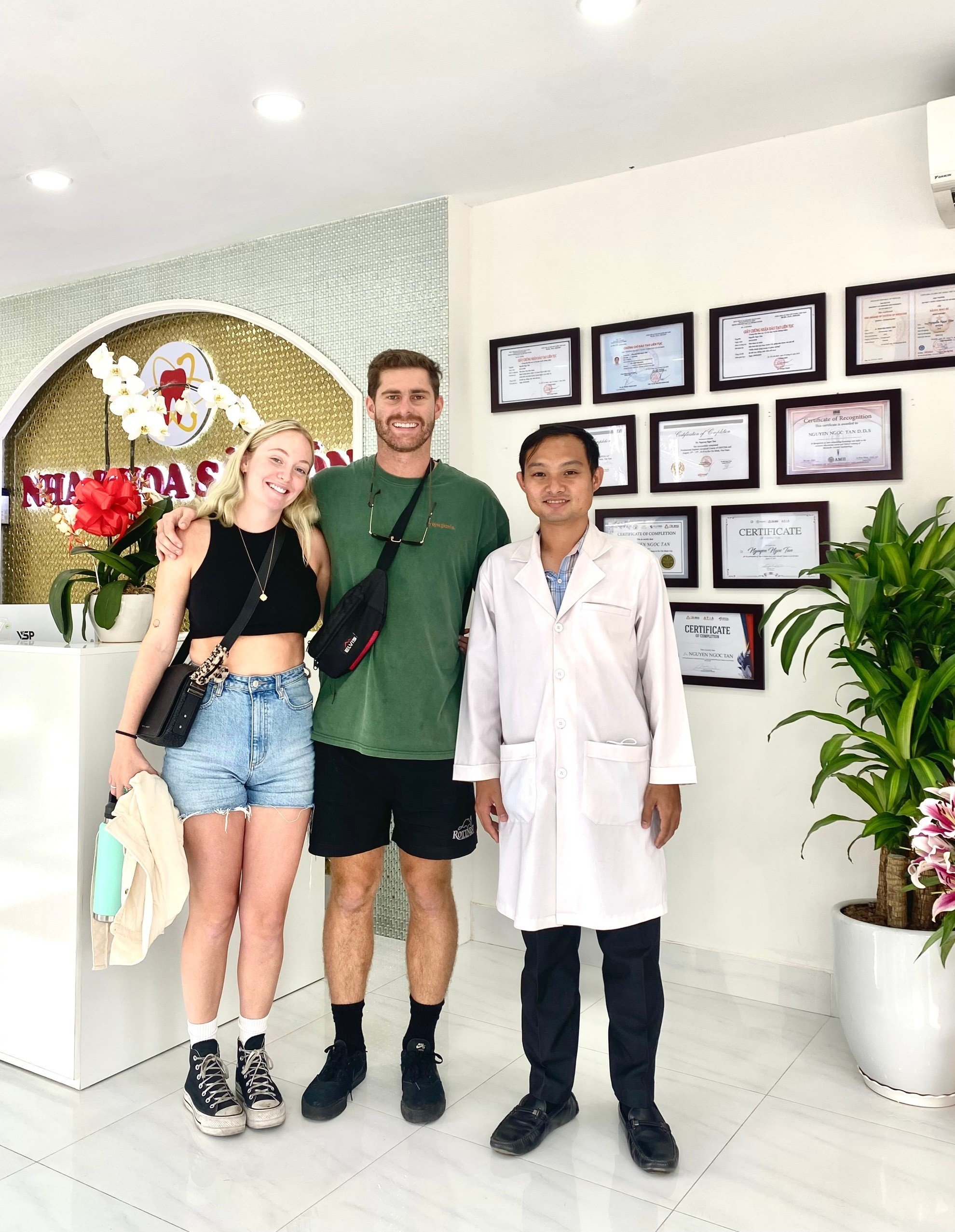 Schedule a consultation for advice and quoting