Comprehensive Single Implant consult and get a full diagnosis and treatment plan for $0. Plus an up to 30% discount on the cost of  Dental Implants, you will easily get new teeth and no longer face problems such as discomfort when wearing dentures, sunken cheeks, premature aging, poor appetite….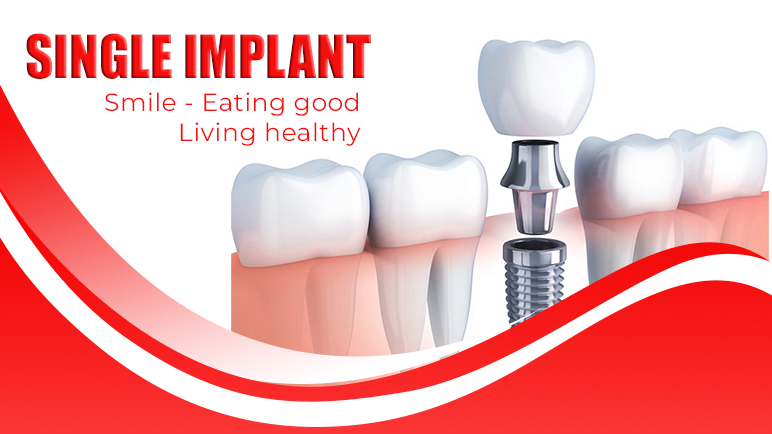 7 BENEFITS WITH SINGLE IMPLANT AT SAI GON IMPLANT DENTAL CENTER
An implant is a difficult technique, using implanting a false tooth root into the jawbone to support the crown. Digital implants technology for outstanding quality. If the patient wants to 100% successful implantation criteria, patients should choose to plant teeth at Sai Gon Implant Dental Center.
Can replace 1, or 2 missing teeth easily with long-lasting Results. The process needs to be planned correctly to ensure safe implantation, Implant integrates quickly and without complications. For people who have lost teeth, the implant method has 7 benefits, including:
1. Improved appearance, rejuvenation
Dental implants look and feel like your own teeth. And because they are designed to fuse with bone, they become permanent. Implant help to support facial muscles, prevent sunken cheeks, and wrinkled skin, and make the face fuller and more youthful.
2. Improved speech
With poor-fitting dentures, the teeth can slip within the mouth causing you to mumble or slur your words. Dental implants allow you to speak without the worry that teeth might slip. Improved comfort: Because they become part of you, implants eliminate the discomfort of removable dentures.
3. Easier eating
Sliding dentures can make chewing difficult. Dental implants function like your own teeth, allowing you to eat your favorite foods with confidence and without pain.
4. Improved self-esteem
Dental implants can give you back your smile and help you feel better about yourself.
5. Improved oral health
Dental implants don't require reducing other teeth, as a tooth-supported bridge does. Because nearby teeth are not altered to support the implant, more of your own teeth are left intact, improving long-term oral health. Individual implants also allow easier access between teeth, improving oral hygiene.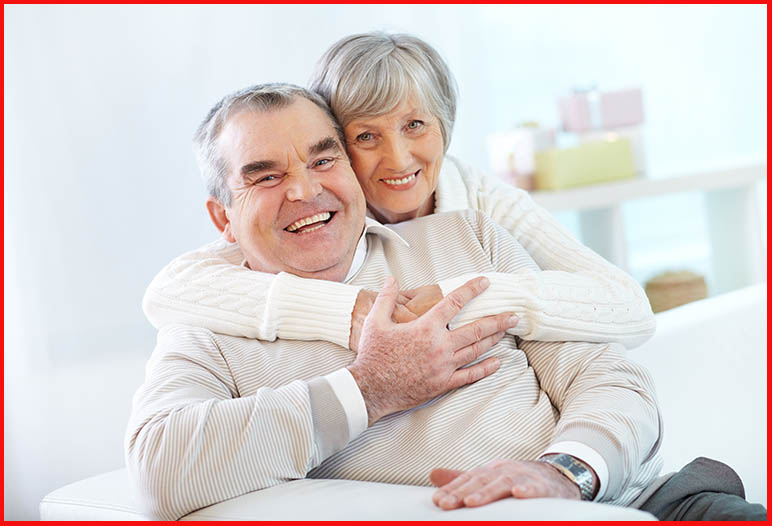 6. Durability
Implants are very durable and will last many years. With good care, many implants last a lifetime.
7. Convenience
Removable dentures are just that; removable. Dental implants eliminate the embarrassing inconvenience of removing dentures, as well as the need for messy adhesives to keep them in place.
DENTAL IMPLANT PROCESS
Success rates of dental implants vary. Dental implants have a success rate of up to 99%. With proper care, implants can last a lifetime.The dental implant procedure includes 7 steps: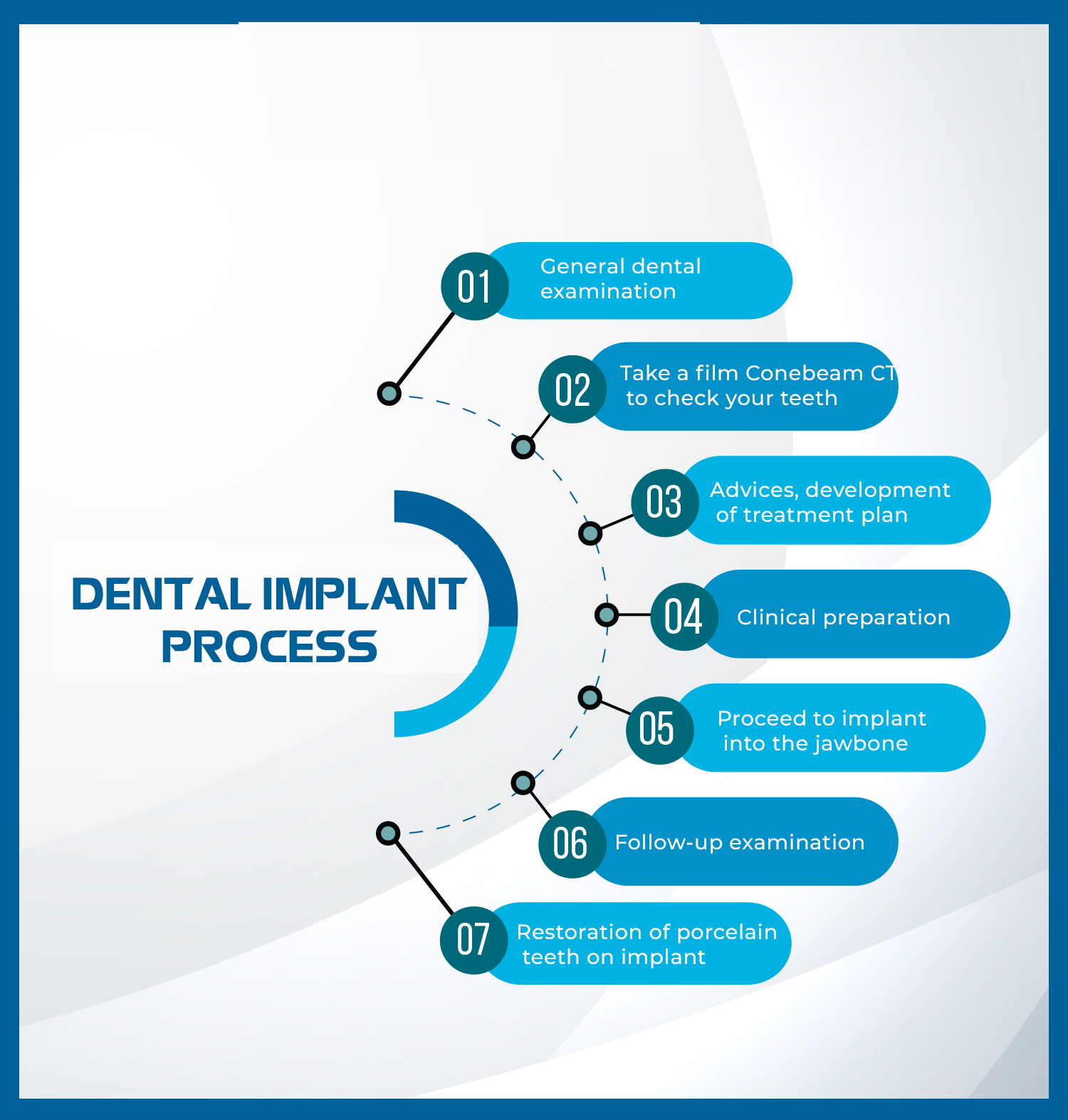 WHY SHOULD CHOOSE A SINGLE IMPLANT AT SAI GON IMPLANT DENTAL CENTER?
Sai Gon Implant Dental Center is a center specializing in the field of dental implants for overseas patients from all over the world, such as: America, Australia, New Zealand, Canada, Singapore,… We are licensed by the Department of Health of Ho Chi Minh City to provide medical examinations and treatment.
We have one of the best teams of implant specialists in Vietnam. Typical like Doctor Nguyen Ngoc Tan. He is a professional Director at Saigon Implant Dental Center with more than 10 years of experience in intensive research and practice of Implants. His amazing hand skill has satisfied many patients from all over the world. Woking in Implantology, Doctor Nguyen Ngoc Tan completed more than 1000 cases of single Implant, ALL ON X implant treatments with successful results from simple to complex.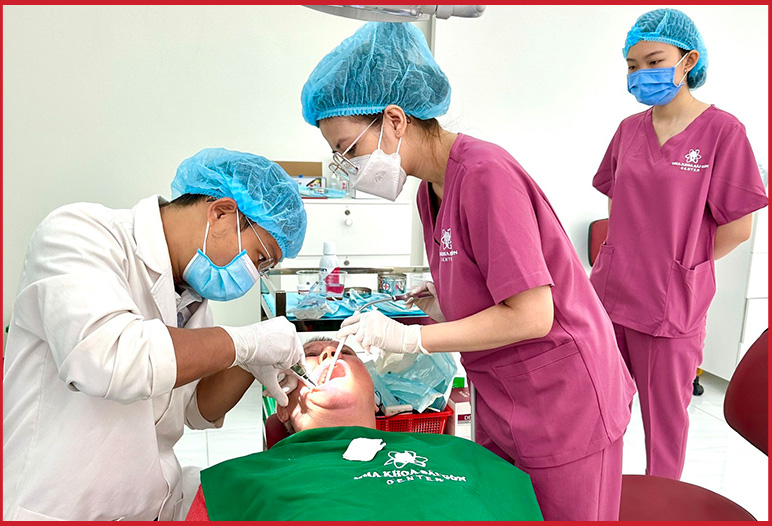 Sai Gon Implant Dental Center adheres to European standards for both quality and sterilization techniques and operates a thorough maintenance and monitoring program for all patients after treatment, to ensure that a successful outcome is achieved. Delivering high-quality dentistry to local and international patients, bringing high-quality dental implant service comparable to foreign dental service.
Dentistry has a full line of implant posts from global famous suppliers such as: Implant Biotem, Implant Supperline, Implant Dentium, and Implant Straumann,… Patients can choose depending on their needs and personal finances. Genuine warranty commitment from 10 – 20 years or can last a lifetime if taken care of properly.
The dental center has a multidisciplinary team of professional dental staff, and a modern clinic that is equipped with the latest technologies, such as panoramic x-rays and 3D CT scanning, to ensure accurate diagnoses and treatments.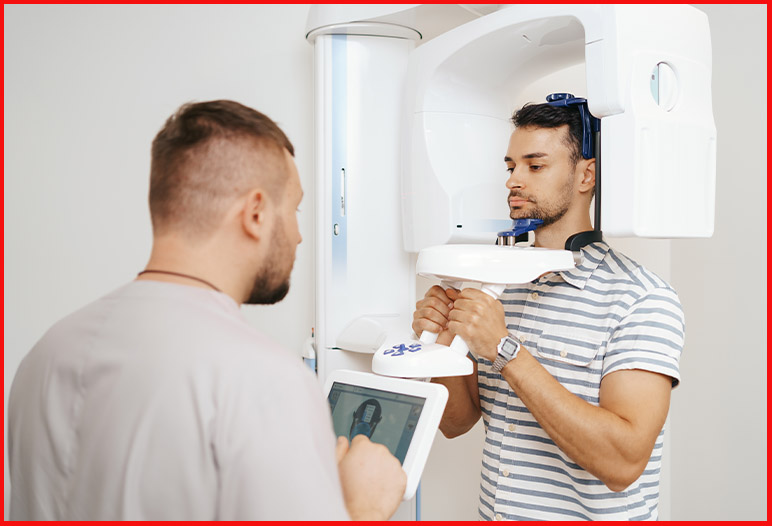 State-of-the-art technology, bespoke treatments and individualized care are at the heart of our practice. This allows us to serve all our patients optimally while providing them with quality service and great results. After a thorough evaluation of your oral health, the dental team will put together a tailor-made treatment plan to suit your needs and budget.
The center offers standard and VIP patient rooms furnished especially for the ease and comfort of its patients, including an accredited surgical clinic for both invasive and non-invasive procedures, as well as an intensive care unit.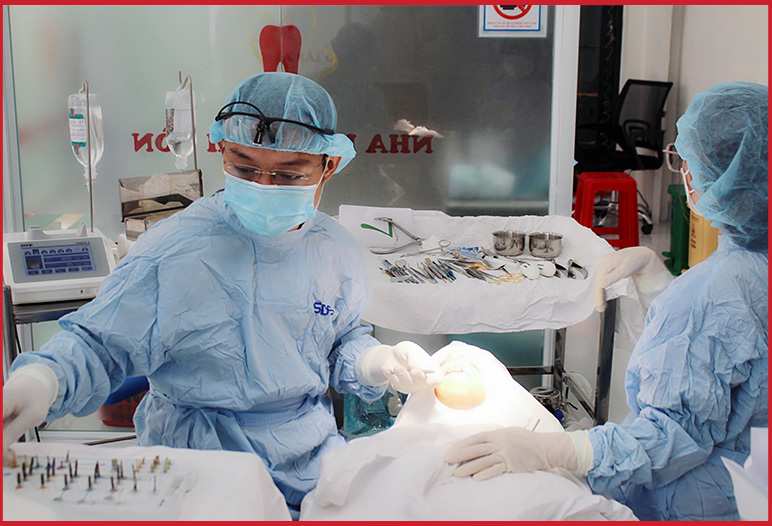 Each patient is allowed to use their own surgical kit, prioritize the use of one-time consumable materials, and prevent the risk of cross-contamination. The implantation process takes place in a closed and sterile operating room according to the regulations of the Ministry of Health.
Patients experience the first 4.0 technology implant therapy in Ho Chi Minh City. Using modern anesthetic techniques, 3D implant software, specialized drills and drills, supports accurate and fast implant placement in just 7 minutes. Immediate dental bonding creates a comfortable feeling after surgery. Patients eat comfortably without worrying about pain, or straining gums.
SINGLE IMPLANT: BEFORE – AFTER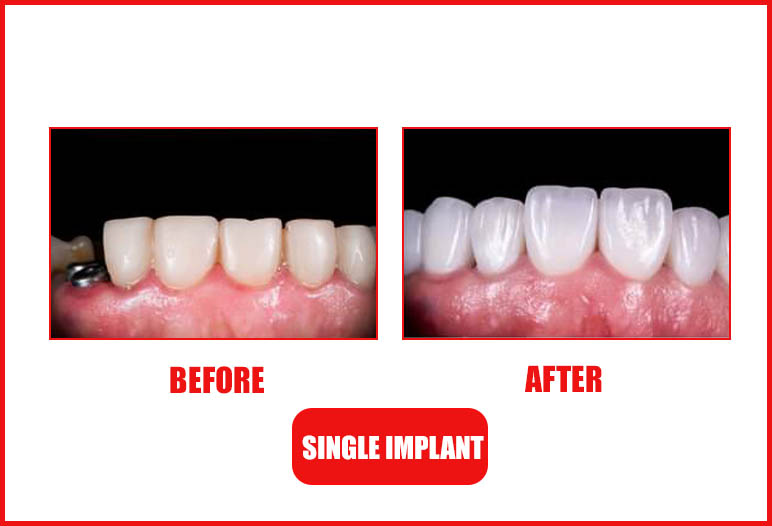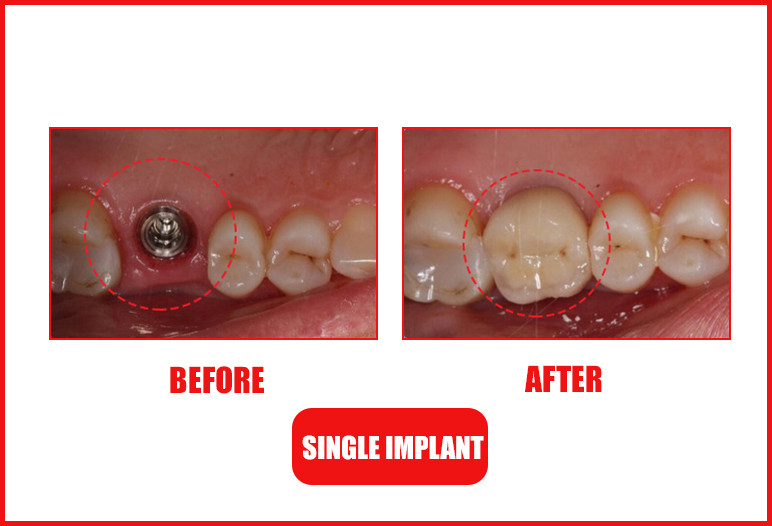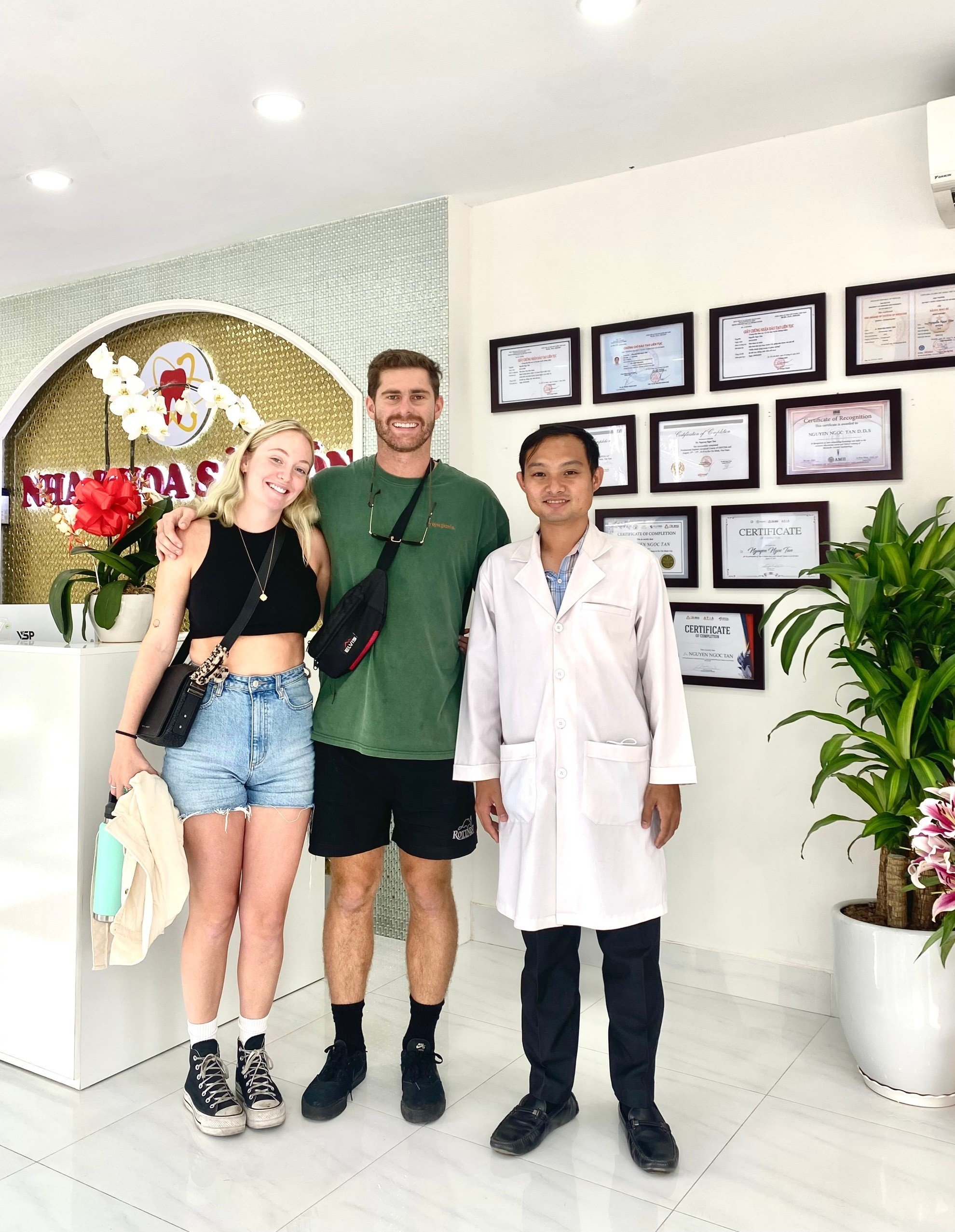 Schedule a consultation for advice and quoting